The Family
We are here to help you...
Rays Custom
Exhaust Shop LLC
The Sign Of Quality
Since 1988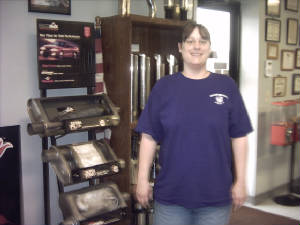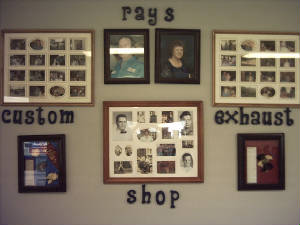 Renee Curray Mooneyham
Renee (Ray's oldest daughter) took over the family business in January 2006 (when Ray first got sick), and after his death, she intended on keeping the family business open. She has been involved in the business since the beginning, which was back in 1988. She has grown up with Ray working on vehicles and working around the shop, she knows what her daddy set as standards of expectations from the employees at the shop, as well as the meaning of honesty, fair prices and a well done job for the customer. She intends to carry on what was her daddy's dream of passing on the family business to Michael. She is a fair and honest person, like Ray. She keeps his memory going here at the shop and values everything the same way that Ray did.
She has also been nominated as a VIP member in the 2007-2008 edition of the Cambridge Who's Who Executive and Professional Registry. July 18 2007. The same as Ray did (1997-1998)---10 years apart.
The family tradition continues with Ray's sister, Mary Dill, carrying on with the business. The sign of quality and honesty were the benchmarks the business was started on and those standards still go on today. Still with all family doing the work with care and quality. Gary is the master pipe bender and Michael is the top in welding. We run the business as we do our lives with fairness and treating people with respect.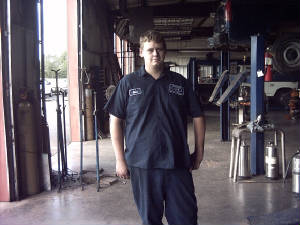 Michael Ray Mooneyham
(welder)

Michael's dream is to hopefully one day run the shop as his PA did. Its a goal that he hopes to achieve, and with his mom & dad's help, it will happen. Ray's Custom Exhaust Shop was started on the day that Michael was born. That day, August 17, 1988 was one of the greatest days of his Pa's life. (his mom's birthday, too) Ray was so proud of his little grandson. They were always doing something together. If Michael was at the shop, he was following his Pa around and working on whatever his Pa was, he was his Pa's little shadow.
Michael graduated from Blackman High School in 2007 and in August 2009 graduated as an automotive technician from the Tennessee Technology Center in Murfreesboro. He has alot of experience in working on vehicles, which started when he was very young. Through the years, he has worked side by side with his Pa and learned alot from him. Now he is learning exhaust from his daddy, Gary, which will take time to master. Alot of people remember Michael on our T.V. commercials and as the boy who rode and drove almost everything he could out in the field beside the shop. They knew that he was Ray's Pride & Joy. Michael is a honest and dependable person who takes pride in his work ...just like his Pa did. Michael likes to ride his 4-wheeler (and everything else he can ride or drive), tinker with lawnmowers, work on his truck, and work on cars. He loves working on mechanical things. He can do almost anything that he sets his mind to. (he got that from his Pa)--
Especially when it is something that no one else has thought of doing and he has as a great time doing it.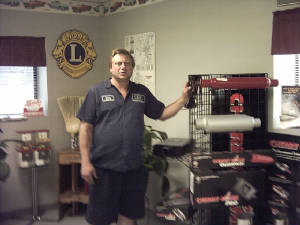 Gary Mooneyham
(Exhaust specialist/Custom welder)

Gary has been an exhaust specialist for more than 20 years. He was taught everthing he knows by Ray, himself.
He's the one that can customize your exhaust system to your satisfaction. He will give you the best advice on your exhaust system and will give you an honest opinion on what you need to acquire the sound and performance that you want for your vehicle. Gary can bend the unbendable, fit the unfittable, and weld the unweldable. From original vehicle parts, to high performance. Gary is well known for his exhaust work. If it can be done, he can do it.